CRI is a VMware certified Enterprise Solution Provider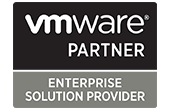 Virtualization is the essential catalyst for cloud computing. Together, in partnership with the virtualization leader VMware, we build on this solid foundation through platforms and solutions to power your private or hybrid cloud infrastructure, build and run robust cloud applications and supply end-user computing as a cloud-based service. The result is not just any cloud, but your cloud – where accelerated IT delivers accelerated results for your business.
Look beyond simple consolidation.
Virtualization started as a means of server consolidation, but IT needs are evolving as data centers are becoming service providers. An isolated hypervisor cannot provide the speed and time to market required to deploy a complete application stack. To realize the full benefits of virtualization, organizations must look beyond simple consolidation and choose application-driven virtualization solutions that are integrated with the applications and infrastructure.

Only CRI offers the industry's most complete and integrated virtualization, from desktop to the data center. Going far beyond simple consolidation, CRI enables you to virtualize and manage your full hardware and software stack..  CRI has been Virtualizing applications utilizing standard VMware since 2007.
Yes, CRI has led the charge in virtualizing UC and messaging applications, and continues to innovate in real time. As technology evolves so do our offerings.  Many of our VMware solutions are in R3.